Emotion Driven Wedding + Elopement Films
Featured Wedding // Stephanie + Stan, Telluride, Colorado
Our why is pretty simple because our why is all about you. We love getting to know our couples unique stories, backgrounds, + personalities. You're the type of people everyone wants to be best friends with. You're often high school sweethearts who have "been together so long that you can finish eachothers sentences." You are head over heels for each other. You are the type of people who cry over dog movies and laugh LOUDLY at every single episode of The Office. You are open-minded, big-hearted, free spirited, + treasure the little things the most. You are always down for a spontaneous road trip or swapping stories around a crackling fire. You treasure your families + keep your friend circles open. You blaze your own trails + you're not afraid of a little wind blown hair or a hike through some mud because you know life is all about making memories with the people you love…even on your wedding day…especially on your wedding day. You are sentimental souls with an appreciation for the little moments. You are more excited about your marriage + growing old with your best friend over everything else and you want a wedding film that reflects all of that. You want a wedding film that is filled with story, heart, + the stuff that really matters.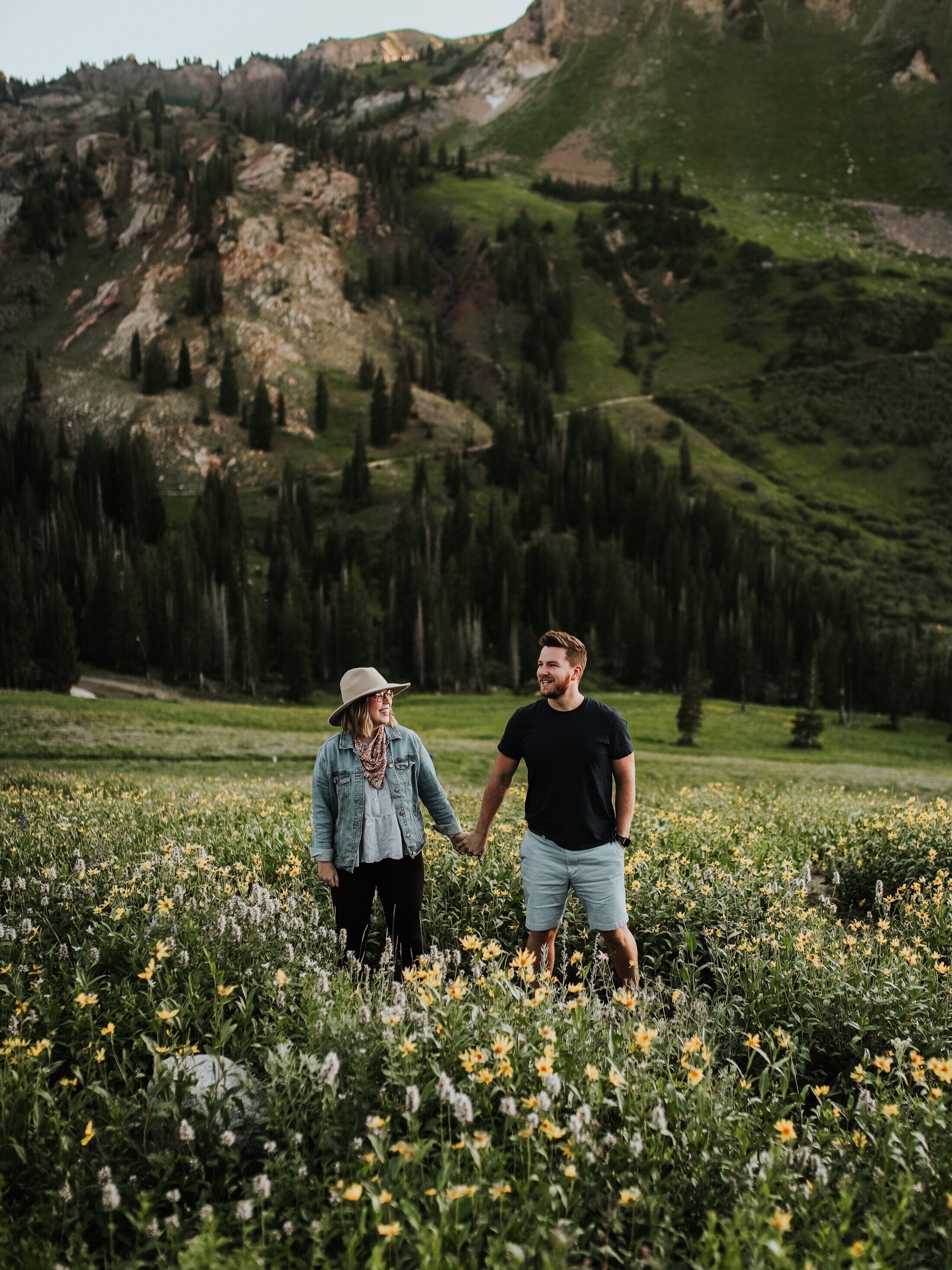 Destination Wedding + Elopement Filmmakers
hi there! we're really freakin' pumped that you've made it here. we're allison + tyler blair, a husband and wife film-making team who live on the road in a 35 foot RV with our spoiled golden retriever pup, nola.
we've been filming weddings for the past 6 years + love it a little more every single day. when we're not stuffing our faces with wedding cake, you can probably find us off somewhere planning our next big adventure.
the little things make us the happiest - good coffee, being outdoors, road-trips, harry potter marathons, chips + salsa, couples who are so freaking in love it makes our cheeks hurt from smiling...you feel us? honestly, we're convinced we work with the world's best couples + always say that you are the real magic behind the films you watch here. the real stuff...that's the magic.
our main focus is to be honest in our storytelling + create an experience for you that is comfortable — allowing you to be your REAL selves. we are laid back, free spirited, + always strive to go above + beyond for our couples. the last thing we ever want to do is treat our couples like "just another client" or our couples to feel like we're "just another vendor."
if you value friendships, you are more excited about your marriage than your wedding day, + you're just ready to do the dang thing...we are positive we would make a great team + would be honored to help you tell your story.

Let's tell your story, together.
"Allison and Tyler were an absolute "dream team" to work with. This couple not only has a love for videography but a passion for finding beauty in everyone's unique stories. Their down-to-earth demeanor made me feel as if I'd known them my entire life the very first time we spoke. From the very beginning of my wedding planning process, they met with us not only one-on-one, but even sometimes over Facetime, just to get to know Brian and I as a couple. They explored our relationship as if it were a novel trying to better understand the dynamics of our love story. Their effort to go above and beyond to get to know us in such a short period of time is truly present throughout our entire wedding video. As if this wasn't enough, they even offered us planning advice about the ends and outs of how to allow our actual wedding day to go as smoothly as possible. Things I never would have even thought about were such pivotal pieces during the flow of our day! The video these two created from such an authentic perspective is something we will cherish for years to come. This video is more than just a yearly reminder of how wonderful our wedding day was. Together, Tyler and Allison created an example the intentions of marriage that Brian and I vowed from day one. This couldn't have been a timelier gift to given to us earlier this year as Brian and I received the news we would be traveling overseas for three years for his career. The same day we received this life changing news, together we sat down and watched this video. Tears streamed down my face as I listened to the words they captured, reminding me that our love story is a journey filled with many ups and downs. However, it's whom we have with us along the journey that makes it an adventure." –Jenn + Brian, 2016 Bride + Groom